Why Halminen?
From floor to ceiling, a Halminen Home embodies all the care and craftsmanship that has made us the first choice of discerning homebuyers throughout the Durham & Clarington Regions.
Inspirational designs are complemented by a host of construction details that are classics in every sense of the word. These are the factors that help make your home a very personal space, that enhance its luxury and liveability, and that provide an extra degree of value that will most certainly appreciate with time.
Every detail in a Halminen Home, no matter how small or seemingly insignificant, has a purpose and function that touches your life and provides a very real and tangible benefit for you and your family.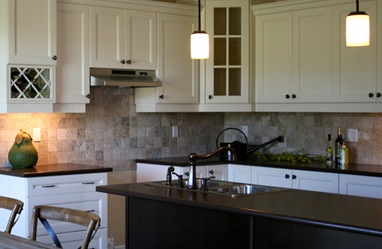 Upgraded Trim Package
Wider is better. When it comes to interior trim, wider is better! 800 Series trim is a finishing touch that adds a new dimension of formal elegance to your decor – enlarged baseboards and door and window casings are standard throughout your home.
Upgraded Closet Doors & Hardware
They may only be closet doors but that's no reason for them to look anything less than beautiful! Our 800 Series raised panel closet doors are matched with brushed steel, 800 Series hardware for an unmatched custom look.
Elegant Oak Pickets & Handrails
You'll love the spectacular look of natural finish oak pickets and railings on the grand staircase, accented with painted stringers. Oak adds a touch of luxury and makes every staircase a Gone With The Wind look-alike.
Neat, Clean Wire Shelving in Closets
You'll often find pressboard shelving in other builder's homes – not in ours! We use ultra-convenient wire shelving that looks so much more elegant, works better, is easier to keep clean and lasts a lot longer.
Insulated Water Saver Toilets
Here's an easy way to save – our low flow toilet tanks work in tandem with energy-efficient, water saver shower heads to make our luxurious bathrooms as efficient as they are beautiful.
Heat Recovery Ventilation
Another Energy Star feature found in every Halminen Engery Star home is our HRV simplified system that ensures year round air quality control AND saves you money.
Decora Light Switches
Another sophisticated touch that separates Halminen homes from the ordinary is the elegance of Decora light switches in every room. Like so many other design appointments, they add a quiet sophistication.
Sealed Duct Work
All basement ductwork is fully sealed for maximum efficiency. The result, an Energy Star feature that delivers maximum performance, saves money and provides enhanced comfort for you and your family.
Garage completely drywalled
Most builders only drywall garage walls that adjoin the home's living areas. We think differently. The garage is part of your home and we believe it should be finished with as much care and attention as any other part. Result - a garage that looks as good as it can be!
Fireplaces That Are Sealed Tight Against Leaks
It may sound like an anomaly, but instead of providing warmth, many fireplaces actually leak cold air into the room. At Halminen, fireplaces don't get installed until AFTER the drywall and insulation has been installed, providing a tighter installation to minimize any chance of draft.
High Tech Rough-Ins
It's all here for you – rough-ins for air conditioning, central vacuum with at least one outlet per floor, and a private communications network including telecom, video and voice connections, security system wiring for two motion sensors and two key pads, cable TV in two different locations and phone jacks in five locations.
Steel Beams in Basements
For additional strength and rigidity, we install steel beams in the basement – another Halminen touch that provides extra value for your home.
High Efficiency Gas Furnaces
Our high efficiency gas furnaces are part of the Energy Star system. They feature 2-stage gas valves, their own fresh air supply from outside and run on extra-quiet, DC variable speed motors – a sure way to save money on heating bills.
Sub Floors Glued And Screwed
There's nothing more annoying than squeaky floors - that's why we glue and screw down the sub floors throughout your home. It's one more way Halminen ensures your peace of mind and well-being.
Vents in Bathrooms and Laundry
No more steamy windows! We install vents to the outside in all bathrooms and the laundry room to provide extra comfort in a cleaner environment.
Dead Bolts on Outside Doors
Security for you and your family is of paramount importance. That's why we provide heavy-duty dead bolts on every door leading to the outside – an extra touch that let's you rest easy.
Easy Care Paint on All Interior Walls
We use washable latex paint on walls and semi gloss on trim throughout your home. It stays looking fresh and clean for years and enhances the beauty of your decor.
Pre-Construction Meetings and The Opportunity to Customize
We make sure each homeowner is truly satisfied BEFORE we begin the final construction of your home with a Pre-construction meeting to make sure that the construction staff understands the homeowners expectations. We do a pre-drywall walk-through with each homeowner so they can see the space and visualize how it will come together; and another walk-through with Bell and cable installers to discuss the location of outlets for maximum convenience. We also allow our homeowners to customize at the pre-construction stage – a super feature that results in a more personalized home.
Clay Brick and Heritage Siding
Your Halminen home is clad in genuine clay brick (not calcite brick) that looks better and is much more durable. Then we enhance its street appeal with high quality heritage siding, freize boards, soffit brackets and other authentic heritage-like details including maintenance-free shutters.
Corrugated Drainage Barrier
We install a heavy-duty, corrugated plastic drainage barrier around the basement walls to stop water from reaching the foundation. This further protects against leaks by actually "pushing" water away from your home.
Energy Star Qualified Casement Windows
We install designer vinyl casement or single hung windows that feature low E glass with Argon for maximum efficiency on all evelations including oversize basement windows on Deck unit or Walk-Out lots. Where other builders might use sliders, we go the extra distance with your family's comfort in mind! And our casement windows have one other advantage... they look like a million dollars!
Metal Valleys and Flashing Between Roof Layers
Our roofs are tops! We install metal valleys (much better than vinyl) and metal flashing between the layers and embedded in the brick around chimneys for extra protection against leaks and water damage.
Tyvek Wrap Around Entire Structure
The entire house structure is wrapped with a Tyvek air barrier to help eliminate drafts. Another Energy Star feature, Tyvek creates a more comfortable year-round environment for you and your family.
Grade Beams in Garages
We use wire mesh and steel beams when we build your garage. This creates a stable foundation to prevent any settling problems that might otherwise occur at a later date.
Poured Concrete Foundations
Where some builders use block foundations, your Halminen home is built on a foundation of solid concrete for extra strength and added settlement prevention.
Foam Ceiling Insulation and Sheathing on Garage Walls
Your garage has Aspenite sheathing between the drywall and the brick and foam insulation in the ceiling to minimize air leakage and ensure maximum comfort.
Dent-free Front Door Entry
Because metal doors dent easily, we install tough, dent-resistant fibreglass front entry doors with heavy-duty springs and rust-resistant hardware. Some designs feature sidelight panels with glass inserts that are Low E Argon.
Insulated Vents
All outside vents are insulated to prevent interior condensation and upper level vents are installed in the soffits where possible. In this way, the integrity of the roof structure is not compromised and the chance of water leakage is greatly reduced.
Plywood Roofs and Aluminum Lintels
Our roofs are clad with 3/8" plywood, a much better and stronger system than Aspenite sheathing. Plus, all exposed lintels are aluminum clad to help make your home as maintenance-free as possible.
Lighting Up The Details
We install a distinctive, engraved stone house number that is unique to all Halminen homes, along with exterior pot lights in the soffit above the house number and the front door. We also install pot lights in the ceilings of covered porches for additional security and peace of mind.
Frost Free Outside Taps
Hose hookups are a breeze with our frost-free outside taps. Like all our exterior receptacles, the two hose bibs (front and rear of the home) are weatherproof, completely maintenance-free and designed not to freeze even on the coldest winter days.
Christmas Light Receptacles
Here's a really neat feature - handy outside receptacles for your Christmas lights that allow you to turn them on and off from inside. You'll really appreciate the convenience and forethought of this feature on those cold December evenings!